"Shin Buddhism is the path of living with gratitude, peace, purpose, and compassion"
                                                                                                                 — Rev. Daishin Senpai, M.A.
The following Eightfold Daily Observances and Practices are recommended for our Fellowship's members and friends, communities, and interested parties. Inspired by our modernist One Dharma approach to Buddhism, we highly encourage you to diligently practice them on a daily basis so that your life can unfold the potential for peace, gratitude, joy, and compassion. The Buddha said that the mind/consciousness is a forerunner of all things; it paints reality like an artist paints a portrait. Your mind's portrait is the life you are leading right at this moment. Through the practice of the following Eightfold Daily Observances and Practices, you can transform your inner reality and "paint" a new life, full of liberation, peace and joy, thereby positively transforming your life, and the world you live in.
Moreover, these observances and practices serve as daily reminders of our highest spiritual values like Going for Refuge in the Three Jewels and the Shin Affirmation; in addition, they serve as opportunities to deeply hear the primordial call of Boundless Life and Light itself via quiet sitting meditation and chanting the Juseige. Finally, the observance ends with the voicing of the Nembutsu – Namu-Amida-Butsu, as the living embodiment of the Oneness of Reality (Buddha-nature) unfolding itself in our hearts and minds.
Where Do I Begin?
Copy and print the following Eightfold Daily Observance for your personal use. Please read the suggested steps and modify them if needed based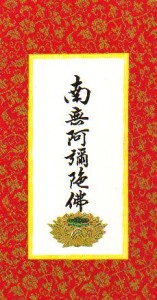 on your life situation.
1. Face shrine, Nembutsu scroll or Buddha image
Palms in gassho (in reverence) with mallas (meditation beads) wrapped around hands. Sit in chair or cushion.
Ring bell (three times and then bow) while you do this follow your breathe mindfully.
2. The Candle & Incense Offering
Do one or both of the following:
1. Light the Wisdom Candle and recite:
"Mindful of the Buddha, Dharma and Sangha, I calmly light this candle, brightening the face of the Earth."
(bell & bow)
2. Light the incense and recite:
"In gratitude and joy,
I offer this incense
to the living heart of wisdom and compassion,
Amida, the Buddha of Immeasurable Life and Light."
(bell & bow)
3. Recite the Five Remembrances
(optional)
"I am of the nature to grow old.
There is no way to escape growing old.
I am of the nature to have ill health.
There is no way to escape having ill health.
I am of the nature to die.
There is no way to escape death.
All that is dear to me and everyone I love are of the nature to change.
There is no way to escape being separated from them.
My actions are my only true belongings. I cannot escape the consequences of my actions.
My actions are the ground on which I stand.
By relying on the compassion of Buddha, the wisdom of the Dharma, and the fellowship of Sangha, may I be reborn in the Realm of Inconceivable Life and Light in this very here and now and realize my true nature so that I may liberate all beings from suffering."
(bell & bow)
4. Going for Refuge in the Three Jewels
(This core practice allows us to entrust ourselves to life's highest universal values)
"I take refuge in the Buddha. May I absorb myself in the living source of understanding, faith and compassion, and awaken to the boundless Pure Land here and now."
(bell & bow)
"I take refuge in the Dharma. May I be submerged in the depths of the Teachings and Reality-as-it-is, and discover wisdom as deep as the ocean."
(bell & bow)
"I take refuge in the Sangha. May I live in harmony with all beings, united with the disciples of Buddha, in the spirit of universal oneness and freed from the bondage of selfishness."
(bell & bow)
5. Recite the Shin Affirmation
"Entrusting in the Primal Vow of Buddha,
Calling out her Sacred Name,
I shall pass through the journey of life with strength and joy.
Living in the Light of Buddha,
Reflecting upon my imperfect self,
I shall proceed to live a life of gratitude.
Following the Teachings of Buddha,
Listening to the wholesome Path,
I shall share the Dharma with all.
Rejoicing in the compassion of Buddha,
Respecting and aiding all sentient beings,
I shall work toward the welfare of society and the world."
(bell & bow)
6. Quiet Sitting Meditation
If time permits. Practice meditation to help generate inner silence so you can deeply hear the call of Boundless Life and Light as the Nembutsu-Namu-Amida-Butsu. Sit on a zafu (meditation pillow) or chair for 10-20 minutes.
7. Chant the Juseige and Nembutsu
(These chants are viewed as a meditation to hear the primordial calling of Life itself beckoning us to spiritually awaken to the heart of the Great Compassion, personalized as Amida Buddha)
Juseige Chant
Song of Praise
The Juseige is the second of three gathas (Songs of Praise) in the primary sutra of Shin Buddhism, The Larger Sutra of Immeasurable Life. This sutra passage recounts Chapter 8 of the Sacred Story, in which the Bodhisattva Dharmakara promises to embark on a quest for enlightenment and then makes 48 Vows to the Buddha Lokes-vara-raja. After declaring these vows, he praises these vows with this gatha (poem).
Instructions: Put your hands in gassho (reverence) and strike the bell and begin to chant one syllable at a time. The underlined words are chanted with 2 beats and the second syllable is not pronounced. Click here to listen to the Juseige and Nembutsu chants on YouTube in order in learn them for daily home practice.
(bell)
BUSSETSU MURYO JUKYO
GA GON CHO SE GAN
HIS-SHI MU JO DO
SHI GAN FU MAN ZOKU
SEI FU JO SHO GAKU
GA O MU RYO KO
FU I DAI SE SHU
FU SAI SHO BIN GU
SEI FU JO SHO GAKU
GA SHI JO BUTSU DO
MYO SHO CHO JIP-PO
KU KYO Ml SHO MON
SEI FU JO SHO GAKU
RI YOKU JIN SHO NEN
JO E SHU BON GYO
SHI GU MU JO DO
I SHO TEN NIN SHI
JIN RIKI EN DAI KO
FU SHO MU SAI DO
SHO JO SAN KU MYO
KO SAI SHU YAKU NAN
KAI Hl CHI E GEN
MES-SHI KON MO AN
HEI SOKU SHO AKU DO
TSU DATSU ZEN SHU MON
KO SO JO MAN ZOKU
I YO RO JIP-PO
NICHI GATSU SHU JU KI
TEN KO ON PU GEN
ISHU KAI HO ZO
KO SE KU DOKU HO
JO O DAI SHU CHU
SEP-PO SHI SHI KU
KU YO IS-SAI BUTSU
GU SOKU SHU TOKU HON
GAN E SHITSU JO MAN
TOKU I SAN GAI O
NYO BUTSU MU GE CHI
TSU DATSU Ml FU SHO
GAN GA KU E RIKI
TO SHI SAI SHO SON
SHI GAN NYAK-KO KA
DAI SEN O KAN DO
KO KU SHO TEN NIN
TO U CHIN MYO KE
(bell)
Nembutsu Chant
(shortened version)
The Nembutsu Chant is experienced as the call of Life and Light itself, known as the Name-That-Calls. Moreover, it is the living embodiment of Amida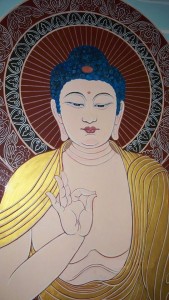 Buddha, the manifestation of the Oneness of reality. Shinran Shonin said, "just say the nembutsu and be liberated."
As a practice suggestion, visualize the sacred light of Amida, full of warmth, love and compassion, before you. Then, allow yourself to entrust and totally surrender to this living Light. Then, let the Light penetrate you until you can visualize yourself becoming totally penetrated and embraced by the sacred Light. Then, from deep within your self, hear the sacred voice calling unto you. Begin chanting the nembutsu, as the living revelation of your infinite nature. Voice the following shorten version 10x, 30x or even 108x.
"NA MAN DAM BU"
8. Dedication and End Observance
After chanting the Nembutsu, recite the following dedication.
"I dedicate my life, practice and faith,
To the enlightenment of all beings,
May I share all the merit generated by today's observance."
(half bow & 1 or 3 bells)
Throughout the day, practice deep hearing; become aware and entrust in Great Compassion, symbolized as Amida Buddha, which surrounds and sustains you and all beings. Let the feeling of gratitude and compassion arise from within you and recite the Buddha Name, Namo Amida Buddha.
Suggested Daily Prayers
Lunch Break Prayer Practice
During lunch break, to help remember the dharma and cultivate deep hearing, compassion, and love, you may want to recite The Prayer of Metta-karuna. This beautiful and popular Pure Land prayer, adapted by Rev. G. Lewis-Bastías, from the 8th century Indian Buddhist saint, Shantideva. Recite it with palms in gassho and with mallas wrapped around hands.
"Oneness of Life and Light,
Entrusting in your Great Compassion,
May you shed the foolishness in myself,
Transforming me into your conduit of Eternal Love.
May I be a medicine for the sick and weary,
Nursing their afflictions until they are cured.
May I become food and drink during time of famine.
May I protect the helpless and the poor.
May I be a lamp for those who need your Light.
May I be a bed for those who need rest,
and guide all seekers to the Other Shore.
May all find happiness through my actions,
and let no one suffer because of me.
Whether they love or hate me,
Whether they hurt or wrong me,
May they all unfold the entrusting heart,
Through the Primal Vow of Other Power,
and realize the Pure Land.
Namu Amida Butsu."
Buddhist Mealtime Prayer
For breakfast, lunch, snack time and dinner, practitioners should recite either vocally or in the mind the Prayer of Mealtime Thanksgiving.
"This food is the gift of the whole universe;
Each morsel is a sacrifice of life.
May I be worthy to receive it.
May the energy in this food
Give me the strength
To transform my unwholesome qualities into wholesome ones.
I am grateful for this food;
I accept this sacrifice.
May I realize the Path of Awakening
for the sake of all beings.
Namu Amida Butsu."
Copyright 2014. Buddhist Faith Fellowship, All Rights Reserved.
Written by Rev. G. Lewis-Bastias
The BFF of CT grants permission to copy this document for personal use and for NASBA chapters only.