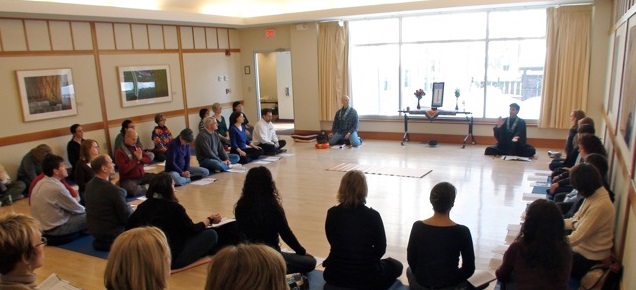 At the Buddhist Faith Fellowship, we strive to provide an online environment conducive for you to receive spiritual nourishment and awakening through the following ways: Fellowship, Learning, Practice, Transformation, Mission, and Service.
A PLACE FOR FELLOWSHIP
"Admirable friendship, admirable companionship, admirable camaraderie is actually the whole of the spiritual life." – The Buddha
We offer a caring online environment that naturally creates healthy relationships between members and friends of our spiritual family. Our Fellowship is a place you can meet other people on the path, with wholesome values, and perhaps with similar interests.
A PLACE FOR LEARNING
"To learn the Buddha Way is to learn about one's self. To learn about one's self is to forget one's self. To forget one's self is to be awakened by all things in the universe." – Dogen Zenji
We are engaged in the study of classic Buddhism and a uniquely modernist approach to Shin Buddhism but are open to the wisdom found in the entirety of human experience. Being the latest branch of the 2,600-year-old Pure Land tradition, there are many treasures of history, art, culture, and teachings to discover that will deepen your understanding, faith, and awareness.
 A PLACE FOR PRACTICE
"Although my eyes, blinded by passions, do not see the brilliant light which embraces me, the Great Compassion never tires, always casting its light upon me." – Shinran Shonin
Every Practice & Talk Meeting is an occasion for you to receive spiritual refreshment, full of insights, blessings and inspiration. Since Shin Buddhism is the way of the common man and woman, our online Sunday Practice & Talk Meeting is simple enough for anyone to follow. Typically, our practices cover loving-kindness prayers, sacred chants, mindfulness & sitting meditation, contemplative practices, listening to a dharma talk, and so much  more. These ingredients work together to create an enriching online environment that transforms confusion and suffering into insight and inner peace.
A PLACE FOR TRANSFORMATION
"When we entrust ourselves in Amida's Primal Vow, we who are like broken tiles and bits of pebbles are transmuted into gold." – Shinran Shonin
Awakening means living and embodying the teachings not just believing in them. It is a new way of thinking, speaking, and acting, in which the ego-driven centered life is reoriented to one that is embraced by the grace of Other Power, as expressed by true entrusting, humility, and gratitude. Transformation begins by truly realizing that the boundless light embraces us just as we are – warts and all.
Therefore, our teachings, online gatherings, and in-person programs help you take the plunge into the all-accepting and life-enhancing Shin Buddhist Way. At the Fellowship, the intention is to make sure that living the Buddha's teachings are not limited to Sundays, but continues throughout the week at home, work, and play. We plan and implement our activities to develop personal growth, spiritual leadership, and social engagement. We want to equip you with the tools necessary to not only live the Shin Buddhist Way but encourage others to do the same.
A PLACE FOR MISSION
"Go your ways, for the benefit of the many, for the happiness of many, out of compassion for the world, for the good, benefit, and happiness of all. Teach the Dharma which is beneficial in the beginning, in the middle, and in the end – both the spirit and the letter of it. Make known your way of life." – The Buddha
Our community is called to accomplish the Buddha's Great Commission by providing opportunities to participate in local outreach, teaching, and someday even national and global missions.  In the past, we set up local chapters in other parts of the United States and even in other countries; in the future,  we will continue this outreach effort. Nevertheless, together with our community, you can help share the love and hope of the Great Compassion with a broken, lost, and suffering world.

A PLACE FOR SERVICE
"Be a Prayer" – Shinran Shonin
We accept our universal responsibility to reach out in service to others and the world. Our members and friends strive to embody our values and extend our love to those in need within our spiritual family or outside of our fellowship. Serving others is a direct reflection of true entrusting and is putting into practice Shinran Shonin's refrain, "be a prayer".
When we serve with an open heart, whether at the Fellowship or in our communities, we become an extension of the Pure Land here on earth. We encourage you to get involved in your local community to help relieve suffering and injustice using the Buddha's teachings as our guide. In these endeavors, we support one other's spiritual growth and strive to remember that we are all imperfect human beings doing the best that we can.